| | | |
| --- | --- | --- |
| | TRichView in Applications | |
---

Product Page: Product page in English
Product Page: Product page in German
Developer: Jan Weingärtner
License: Shareware
Interface: English.
---
TailMe is an utility providing functions similar to the UNIX command "tail": it lists the last changed lines/characters in a text file.
You can always see changes taking place in the file on the fly. It is very usefull for monitoring log files of applications - e.g. Apache's "error.log" and "access.log". To reload different monitor jobs you can define configuration files and hand them over to "TailMe" by a command line parameter (example is included).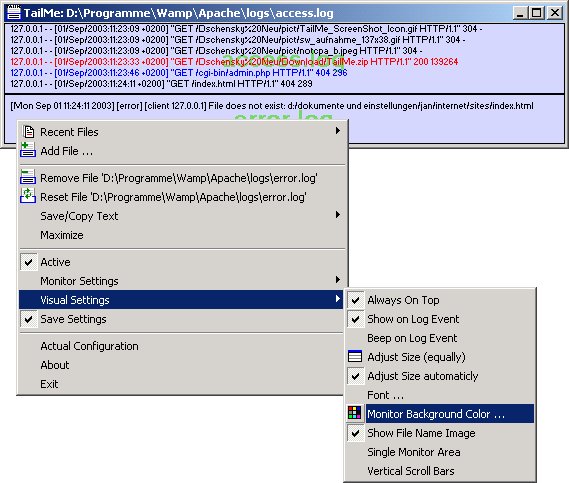 TailMe Screenshot: RichView is used to show changes in the monitored files
TailMe can monitor several log files at the same time.
For every file a TRichView component is dynamicly created.
The using of TRichView's format functions makes it possible to create more expressive outputs than the standard "tail" command can do.
For example:
lines with special (user-defined) key words are written in different colors
shrinked log files are symbolized with a horizontal line
---
Disclaimer: This application is listed here because it uses our programming library. We are not the developers of the applications listed in this section of the web site (unless explicitly stated). Contact information of the developer of this application is at the beginning of this page. Please address all support or sales questions regarding this application to the developer.
We are trying to keep information in this section of our site up to date. But applications are evolving, and some information or graphics may be obsolete. Visit the application's site for the actual information.