| | | |
| --- | --- | --- |
| | TRichView in Applications | |
---

Product Page: (discontinued)
Developer: 1dotSoft
License: Shareware
Interface: English.
---
Babel Fish Direct allows fast translations using all the power of Altavista's Babel Fish translation engine.
The original material can be imported from a file in Text or Rich Text Format, can be pasted from the clipboard or simply dragged and dropped.
The translated material can be edited, formatted and then saved to a file in any of the following formats: Text, Rich Text Format, HTML or HTML with CSS.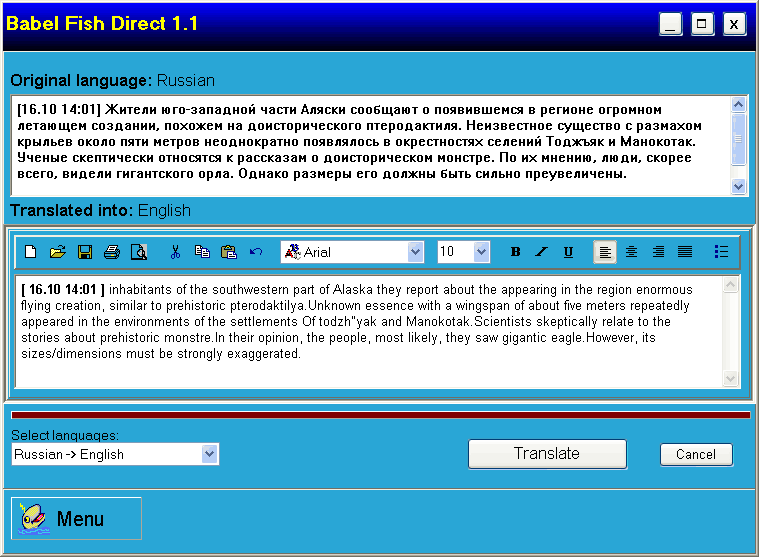 Screenshot: TRichViewEdit is used to apply formatting to the result of the translation.
Currently, Babel Fish Direct supports the following translations:
English to French
English to German
English to Italian
English to Portuguese
English to Spanish
French to English
German to English
Italian to English
Portuguese to English
Russian to English (requires Windows NT/2000/XP)
Spanish to English
German to French
French to German
To respect the terms and conditions of Altavista and Web service publishers, you should restrict Babel Fish Direct to personal use.
---
Disclaimer: This application is listed here because it uses our programming library. We are not the developers of the applications listed in this section of the web site (unless explicitly stated). Contact information of the developer of this application is at the beginning of this page. Please address all support or sales questions regarding this application to the developer.
We are trying to keep information in this section of our site up to date. But applications are evolving, and some information or graphics may be obsolete. Visit the application's site for the actual information.