| | | |
| --- | --- | --- |
| | TRichView in Applications | |
---

Product Page: rebel13.nl/windows/ectool.html
Developer: Andres Valverde
License: Shareware
Interface: English, Spanish, German, Italian, French, Catalan, Portuguese.
---
ECTool is an utility to help with the management of playing correspondence or email chess.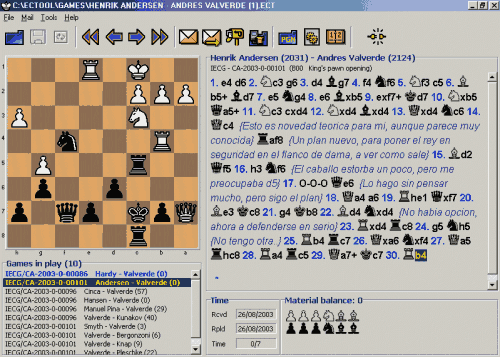 Chess game is in progress
TRichView is used to record the game (hypertext field at the right side of the window) and in the list of captured pieces (bottom right)
ECTool Features:
Keeping a database of games in progress and already completed, displaying the games in tabular form and showing them on a chess board.
Analyzing positions and games.
Automatic creation of messages in various formats.
Sending the resulting messages via SMTP protocol and receiving through POP3 protocol.
Keeping track of messages sent and received.
Incorporated address book.
---
Disclaimer: This application is listed here because it uses our programming library. We are not the developers of the applications listed in this section of the web site (unless explicitly stated). Contact information of the developer of this application is at the beginning of this page. Please address all support or sales questions regarding this application to the developer.
We are trying to keep information in this section of our site up to date. But applications are evolving, and some information or graphics may be obsolete. Visit the application's site for the actual information.